With a wealth of experience in the Drug Discovery environment, we are confident our team can fulfil your needs for any part of the Gene to Structure process.
We tailor our professional services to fit your requirements, whatever stage of the process you are at.  From construct design, through to expression and purification of your desired protein. Whatever your end use, assay, high throughput screening, biophysics or crystallisation and X-ray structure determination, we can supply your protein in a suitable format.
Latest News from Peak Proteins
admin
In the quest to deliver pure recombinant protein for assay, biophysics or crystallisation, the addition of an affinity tag, to fish out the target protein of interest during purification from [...]
admin
A great opportunity this morning for Juli and Rachel to show case how a combination of protein engineering and detailed mass spectrometry analysis of the expressed proteins can give the [...]
admin
Kicking of November with a couple of European meetings, starting with Mark attending Europe's biggest life science and pharma partnering meeting, Bio Europe 2018 in Copenhagen https://ebdgroup.knect365.com/bioeurope/. Lots of 1-2-1 [...]
Peak Protein Case Studies
admin
2018-10-24T13:19:39+00:00
We were asked to generate a secreted protein that is known to undergo significant post-translational modification. The challenge was to not only make it but to clearly demonstrate that all the required post-translational modifications had occurred. A HEK293 system was chosen because, as a mammalian cell line, this was most [...]
Hazel Weir
2018-02-07T14:00:05+00:00
Our client required 20mg of protein for NMR structural studies. The protein was known to be post-translationally modified with palmitic acid on a cysteine residue. Our challenge was to obtain this amount of protein after expression in E. coli and demonstrate palmitoylation using mass spectrometry analysis. The protein [...]
pepperstreet
2018-02-20T11:16:47+00:00
Our client required >2 mg of a novel, secreted protein for X-ray structure determination studies. The protein was thought to be N-glycosylated. Our challenge was to obtain sufficient >95% pure protein for crystallisation experiments, as measured by SDS-PAGE, size exclusion and mass spectrometry analysis.  In addition, we were [...]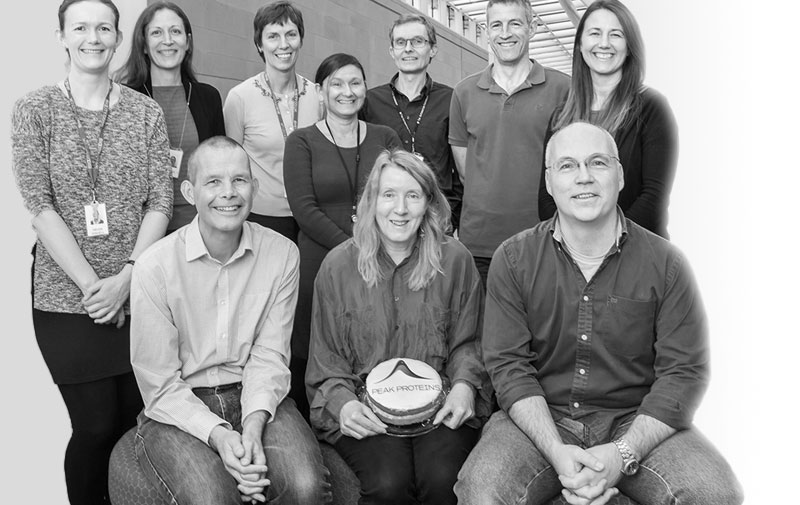 Meet the Team
Within our team are a number of highly experienced, PhD qualified staff who are skilled in all aspects of protein expression and purification, protein crystallisation and structure determination, particularly in the presence of ligands. Find out more about us using the tab below.
GET IN TOUCH WITH PEAK PROTEINS
For further information or simply to say hello please contact us on 01625 238892 or email us