With a wealth of experience in the Drug Discovery environment, we are confident our team can fulfil your needs for any part of the Gene to Structure process.
We tailor our professional services to fit your requirements, whatever stage of the process you are at.  From construct design, through to expression and purification of your desired protein. Whatever your end use, assay, high throughput screening, biophysics or crystallisation and X-ray structure determination, we can supply your protein in a suitable format.
Latest News from Peak Proteins
admin
Whilst 13 might be thought of as unlucky for some, Peak Proteins is delighted to welcome our 13th member to the team! Steve Harbourne joins us following a 3 year [...]
admin
In the quest to deliver pure recombinant protein for assay, biophysics or crystallisation, the addition of an affinity tag, to fish out the target protein of interest during purification from [...]
admin
A great opportunity this morning for Juli and Rachel to showcase how a combination of protein engineering and detailed mass spectrometry analysis of the expressed proteins can give the insight [...]
Peak Protein Case Studies
admin
2019-01-21T12:07:38+00:00
Adapting use of size exclusion chromatography to improve yields of an unstable, purified protein A client asked us to express and purify at least 2 mg each of two similar enzymes for selectivity assays. There was literature precedent for both proteins, and a similar approach would be taken [...]
admin
2018-12-06T10:27:29+00:00
Generation of a Nuclear Receptor with known stability issues for SPR studies Our client needed a nuclear receptor protein for Biacore Surface plasmon resonance (SPR) studies. There was precedent for the production of the protein and was available commercially, but it was well known to have stability issues. [...]
pepperstreet
2018-11-23T12:03:05+00:00
Production and analysis of an extensively post-translationally modified secreted protein We were asked to generate a secreted protein that is known to undergo significant post-translational modification. The challenge was to not only make it but to clearly demonstrate that all the required post-translational modifications had occurred. [...]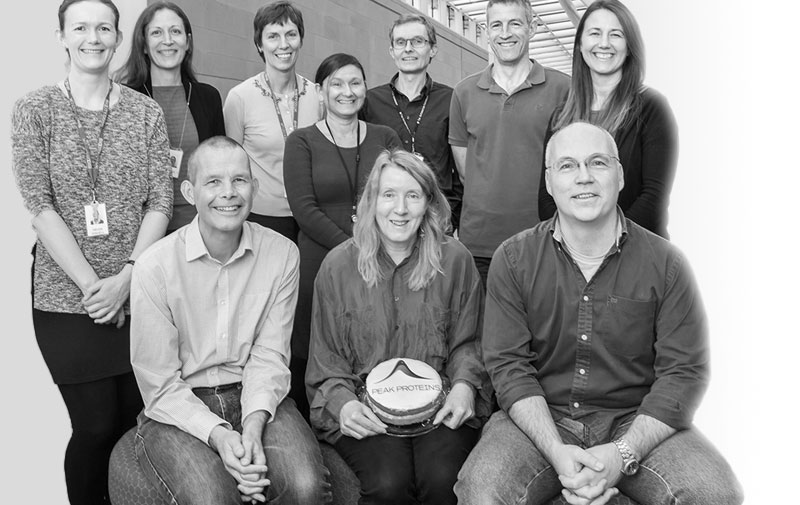 Meet the Team
Within our team are a number of highly experienced, PhD qualified staff who are skilled in all aspects of protein expression and purification, protein crystallisation and structure determination, particularly in the presence of ligands. Find out more about us using the tab below.
GET IN TOUCH WITH PEAK PROTEINS
For further information or simply to say hello please contact us on 01625 238892 or email us