With a wealth of experience in the Drug Discovery environment, we are confident our team can fulfil your needs for any part of the Gene to Structure process.
We tailor our professional services to fit your requirements, whatever stage of the process you are at.  From construct design, through to expression and purification of your desired protein. Whatever your end use, assay, high throughput screening, biophysics or crystallisation and X-ray structure determination, we can supply your protein in a suitable format.
Number of proteins expressed in insect cells in 2018
Number of proteins expressed in mammalian cells in 2018
Number of proteins expressed in E.coli in 2018
Number of proteins purified in 2018
Number of crystals sent for X-ray crystallography in 2018

Number of protein structures generated in 2018
Latest News from Peak Proteins
admin
Want to know more about factors to consider when expressing proteins in eukaryotic cells? Have a read of Mark Abbott's article in the October issue of European Biopharmaceutical review to learn [...]
admin
Despite the recent success of cryoEM in solving more protein structures, X-ray crystallography remains the best method to obtain high resolution (≤3 Angstroms) structures that can facilitate structure based drug [...]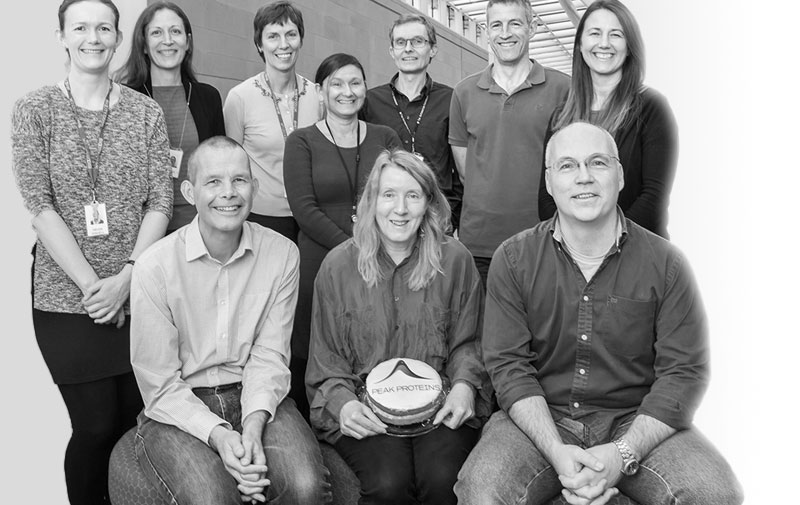 Meet the Team
Within our team are a number of highly experienced, PhD qualified staff who are skilled in all aspects of protein expression and purification, protein crystallisation and structure determination, particularly in the presence of ligands. Find out more about us using the tab below.
GET IN TOUCH WITH PEAK PROTEINS
For further information or simply to say hello please contact us on 01625 238892 or email us